X-IFU Consortium Meeting #14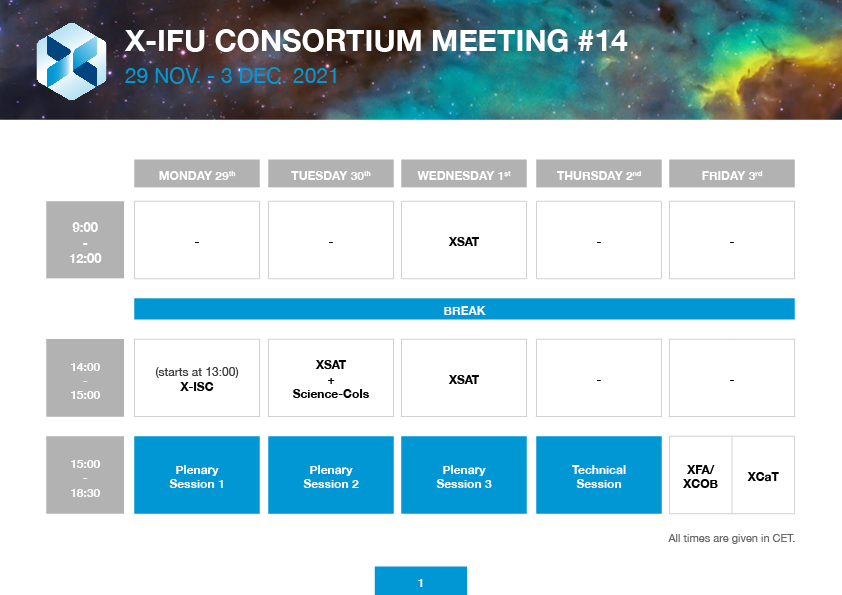 Agenda
This CM#14 will be held on Zoom and we will use a Slack workspace to facilitate the discussions.
The full agenda will soon be available. It will include:
A detailed schedule for the plenary sessions;
Zoom guidelines for participants and speakers;
Slack guidelines.
We recommend that you read this document carefully to ensure an efficient and productive meeting.
Registration
Registration for this event is mandatory. As an X-IFU Consortium member, you will soon receive the registration link by email.
Zoom Link
The Zoom links will be included in the full agenda.
Please note that passwords to the Zoom sessions are only sent to registered participants.
Slack
For this CM14, we will use a Slack workspace: athenaxifu.slack.com
You will receive an invitation email to join the workspace in due time. For those of you who joined the workspace during the last CM, you won't need to register again.
Instructions on how to use Slack will be included in the full agenda.
If you have any questions, you can contact us at xifu@irap.omp.eu.